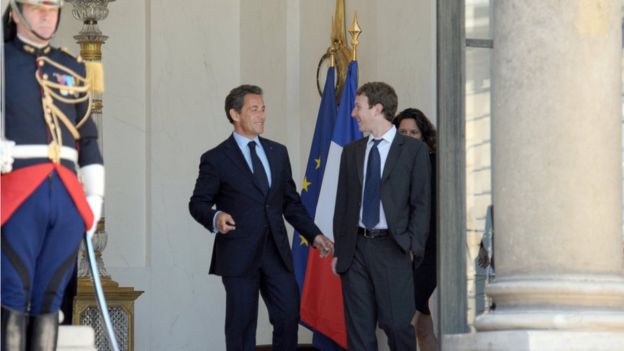 Getty Images
Mr Zuckerberg previously visited Paris in 2011 when he met President Nicolas Sarkozy
Emmanuel Macron's office said the two men would have "frank" talks about data privacy and tax.
The leaders of Microsoft, Intel and IBM are also set to attend the one-day Tech for Good summit at the Elysee Palace.
Mr Zuckerberg will not, however, be visiting the UK.
He has refused a request to testify before Westminster's Digital, Culture, Media and Sport Committee, which had complained that an earlier appearance by his chief technology officer had failed to yield enough detail.
"Although Facebook says Mr Zuckerberg has no plans to travel to the UK, we would also be open to taking his evidence by video link, if that would be the only way to do this during the period of our inquiry," wrote the committee's chair, Damian Collins MP, in response.
A spokeswoman for Facebook was unable to say whom else Mr Zuckerberg would meet or where he would travel while in Europe.
But she gave the following statement: "We have accepted the Council of President's proposal to meet with leaders of the European Parliament and appreciate the opportunity for dialogue, to listen to their views and show the steps we are taking to better protect people's privacy."
The arrangements have displeased parliament's Brexit negotiator, who also serves as the leader of the Alliance of Liberals and Democrats for Europe.
"I will not attend the meeting with Mr Zuckerberg if it's held behind closed doors," tweeted Guy Verhofstadt. "It must be a public hearing - why not a Facebook Live?"